LONDON EVENING STANDARD: 29 November 2011
Interview by Emma Soames
'MATTHEW KICKED HEROIN AND MADE SOME OF HIS BEST ART BEFORE HE DIED'
as a Memorial Exhibition of Matthew Carr's drawings opens, his widow, Lady Anne Somerset,
tells Emma Soames about their life together.
Until the last two years of his life Matthew Carr's studio was also the dining room of the west London house he shared with his wife, the historian Anne Somerset and their daughter Ella. When guests arrived for dinner they would find themselves among monkeys' heads, men's penises and skulls from the catacombs in Palermo.
The table itself was practically an installation, a revolving still life on a Lazy Susan of ashtrays, lighters, fake roses and curious pepper pots found in junk shops or the attics of Badminton, Somerset's family home in Gloucestershire.
Carr died in February, aged only 57, after contracting leukaemia, which dogged the last two years of his life. But during his illness he produced a set of very fine drawings, a series of nudes which he completed while in remission for a few months last year. This weeks these last 10 drawings, and a collection of other recent works, go on show in a memorial exhibition at Marlborough Fine Art. Somerset explains: "Last year he had this extraordinarily creative burst while he was in remission for a few months. He was always critical of his own work but he was really happy with these drawings"
Carr could have been a society portrait painter. The son of the historian and former warden of St Antony's College Oxford, Sir Raymond Carr, he was educated at Eton which he disliked and left at 16. His work was figurative and he concentrated his considerable skill on faces. He moved effortlessly between very different worlds, from his local street to some socially grand circles. His first art dealer was the late Robert Fraser, who sold primarily to the stars, whom he met through Andy Warhol. Carr then married Anne, the daughter of the Duke of Beaufort.
But drug addition and self-hatred took care of that career. He worked less and less, and his anger at himself for not fulfilling the talent he knew he had culminated when he painted Diana Ross. After her limo purred away from the shabby-chic house off Cromwell Road, Carr was sent a series of sunsets that she wanted him to use as background.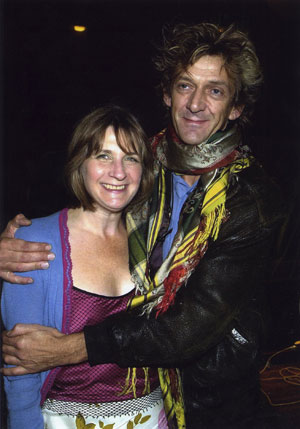 Anne & Matthew Carr
Photo by Alan Davidson
www.thepicturelibraryltd.net
Around the same time as this artistic humiliation Carr's lifestyle became increasingly chaotic. Finally, in the summer of 1999, he checked into rehab.
Somerset and Carr were married for 23 years, and although for the first decade Carr was in the grip of heroin, Somerset was not aware of it. "I was the queen of denial", she says. "Even when his health went into a tailspin, when he had stopped working and lost a lot of weight, I still managed to persuade myself that he didn't have a serious drug problem. Whenever I asked him, he denied it, and whatever else was going on, we still had a very happy marriage - he was just as sweet and considerate as always".
It took the intervention of friends to persuade Somerset that Carr needed outside help - and it was unlikely he would get it without her pushing him. "A friend who'd been through a similar scenario actually convinced me that the drugs could kill him and I suddenly had visions of hearing snatches of conversation of people at his funeral blaming me for not tackling it".
Rehab really did give him a second chance, though. "He was utterly renewed after it and the work he produced over the past decade was perhaps his best".
It was a few years into this newly invigorated decade that Carr was taken on by Marlborough fine Art and it was now that he produced the varied work that made up for the lost years. Unfashionably figurative, his work was firmly grounded in technique, but it also has an emotional resonance. Ella, his 19-year-old daughter, says his greatest gift was that he was overwhelmingly interested in people, sensitive to their feelings and longed to make them happy - "particularly me and Mum'
His capacity for striking up friendships made finding sitters easy: he persuaded a band of professional golfers to allow him to draw their genitalia, and he spent time in Hounslow, where he drew a series of Sikhs. For his last exhibition he homed in on the literary world with portraits of Tom Stoppard, Beryl Bainbridge, Antonia Fraser and James Fenton. When sitters were few, he drew stuffed crows or sheep's skulls.
"I never knew what I was going to find in the fridge" says Somerset, "and sometimes, when he was drawing someone naked, the door would be barricaded". A kind and generous man, Carr was utterly steadfast in his private life. "He really wasn't difficult to be married to", says Somerset. "As well as being considerate he was very practical and a real homemaker - for instance, he could use a sewing machine, which I certainly can't. He was very good at maintenance, he looked after everything beautifully".
Carr was elegantly tall and wraith thin but exuded both physical toughness and great energy - virtues that sadly proved to be no match for the illness that ravaged his body over the last two years. His fashion sense was somewhere between boho and duke. He had a vintage double-breasted pinstriped suit that he would wear in winter with a moth-eaten fur tippet. At his funeral, author Nicola Shulman described his style as "Nancy Lancaster meets Tim Burton", and even in hospital, where he endured months of treatment and a bone marrow transplant, his room was styled.
Carr had taken up laying the piano in his fifties and had an upright wheeled in so he could practise his new obsession. The walls, though not purple, were covered with images and reproductions of old master drawings. Somerset says he had a great ability to adapt to his circumstances. "He once told me that he was very easily institutionalised. He loved being in rehab, for instance, and made some good friends there. Much the same happened when he was in hospital".
His legendary charm kept an entire generation, including me, amused, sometimes shocked and always riveted: when you sat next to him you didn't know whether he would fall asleep in the soup, hurl a few insults around the table if things were getting a little too dull or keep you highly amused with a cascade of gossip, jokes and literary and musical allusions.
The only things he was unfailingly serious about were his commitment as a devoted father and husband and his work: both were sacred. "He absolutely adored Ella" says Somerset. "He simply worshipped her from the very day she was born. She was the centre of his life".
While Carr enjoyed a final creative surge, Somerset was simultaneously working hard on her sixth book, a magisterial biography of Queen Anne, which will come out just weeks after Carr's memorial exhibition. No one can quite figure out how she achieved this feat while he was so ill and her life so disrupted. But she says simply: "It was good to have something else to focus on".
Indeed, Somerset dealt with Carr's final illness in much the same way as she had with his addiction many years ago. "In a funny sort of way this denial thing of mine kicked in again - I was always optimistic about the outcome and until about 10 days before he died there was no reason not to be positive. Even when he went back into hospital three weeks before he died I was still quite optimistic about the future".
After some months of remission last year Carr's leukaemia had returned, and he received a bone marrow transplant from his sister. He then contracted graft-versus-host-syndrome, which affects many recipients of such transplants. But, as Somerset explains, "the doctors got on top of that and it didn't explain why his condition deteriorated so dramatically"
Although their marriage was a beacon of warmth and stability, it was not an artistic partnership. Many artists widows assume the posthumous mantle of muse but Somerset bursts out laughing at the suggestion. "His muse? Goodness, no. He rarely drew me and said I didn't have any visual sense. But he was pleased when I liked his work - and he always read my books before they went off to the publisher. He managed to read the first third of Queen Anne".
Anne has no immediate plans for the future. "I really can't think beyond the show. He always got into a terrible state just before his exhibitions, so it's been unnaturally calm in the run-up"
Matthew Carr's Memorial Exhibition is at Marlborough Fine Art, 6 Albemarle Street, W1,
from 30 November until December 22 2011.